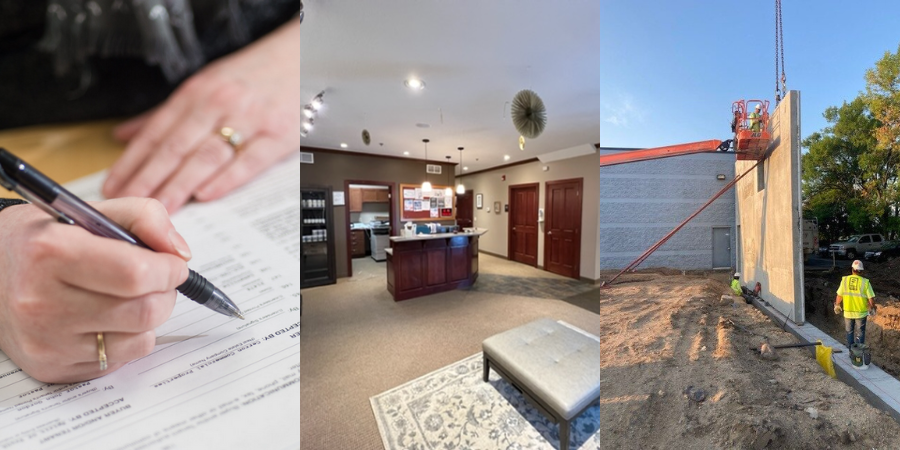 Lease, Buy, or Build: How To Know Which Is Right for Your Business
Whether you're launching a new business, expanding an existing one, or simply need to move locations for one reason or another, you'll need to decide whether to lease, buy, or build a property.
And with current construction lead times, it's important to make this decision early on. If you don't, you could be in for a long wait before you can start your construction project.
Right now, it takes longer to get materials like concrete wall panels, steel, transformers, and other items necessary to construct commercial buildings. Some materials are as much as a year out, so if you want to build and don't get started now, your project will be delayed and you'll miss out on business opportunities.
There are a number of factors that go into making the right choice for your business, including your financial situation, timeline, tax implications, space use requirements, and available inventory. Read on to consider the pros and cons of leasing, buying, or building commercial real estate so you can determine the best course of action for your business.
Pros and Cons of Leasing Commercial Real Estate
When you lease a building, you rent it for a set term (often 5-10 years), at which point you'll need to renegotiate if you want to continue using the property. If not, you're free to move on to a different location.
Pros of Leasing:
Access to more liquidity (a.k.a., less of your money is tied up in your building)
Fewer unanticipated costs, as you won't need to pay for significant maintenance repairs and upkeep
Tax breaks for property expenses
Flexibility — you're free to move out of the property once the lease term is up
It's often easier to qualify for a lease than a mortgage
Cons of Leasing:
No equity or benefits from appreciation
No opportunity to collect rental income
Typically requires a higher monthly payment (compared to a mortgage)
Little to no control of the space (unless you find a "build-to-suit" situation)
Difficult to find the right space in the right location
Lease terms can be complex (make sure you understand what you're signing!)
Leasing makes sense for businesses who want more flexibility or greater liquidity to invest in business growth. In fact, we've even worked with business owners who own their building, but decide to engage in what's called a "sale-lease-back" option to free up capital for their business.
In addition, a lease often makes the most sense if you're starting a new business or need to get into a property right away and don't have a lot of extra cash on hand. It can also be a good option for business owners who want to get into a prime location where buying a property would be beyond their budget.
Ultimately, leasing allows for a lot of flexibility and can be ideal for both business start-ups as well as seasoned business owners, depending on the needs of the business.
But because finding the right location can be difficult and lease terms can be complex, it's best to enlist the help of a commercial real estate broker like Cerron Properties to help you find the best option for your business and ensure a smooth process.
Considerations for Buying an Existing Building
Commercial properties can make great long-term assets, as commercial real estate tends to retain its value over time (as long as it's maintained properly). But, like leasing, there are pros and cons to buying a building.
Pros of Buying:
Build equity over time
Potential to earn rental income
Tax breaks for interest, depreciation, and non-mortgage expenses
You have more control of the property (compared to leasing)
Fixed mortgage payments (no more worry over increasing rents)
Cons of Buying:
Large up front payment (typically 20-25% of the purchase price, plus closing costs, appraisal, and origination fees)
Obtaining financing can be a struggle
Loans can have prepayment penalties
Potential for loss of capital (if property values go down)
Loss of liquidity, as your money is tied up in the property
You are responsible for all costs and work involved in

building maintenance

(although you may incur some of these costs in a leasing situation as well)
Generally speaking, if you have the cash, can get reasonable financing, and are prepared to pay for the costs and work of building upkeep, it may make more sense for you to buy rather than lease. Every situation is different, though, so it's best to consult with a commercial real estate broker for help determining the best course of action for your business.
If you do choose to buy an existing building, there are a few factors you'll want to consider as you search for a property to buy. Keep the following in mind:
The overall square footage and whether there is room for future expansion.
The age and condition of the building, as well as potential future repairs or updates (i.e., roof, mechanicals, parking lot, and so on).
Will you need to renovate the space before using it? If so, make sure you have enough time for the renovations, as well as emergency funds set aside for unexpected issues that arise during the project.
Location: consider the zoning, the area's development, who your neighbors are, and if there is potential for expansion.
Opportunity for resale: Will you be able to sell the property in the future to realize an equity gain?
What To Think About Before Deciding To Build
While building is often seen as the most expensive option (and therefore off-limits for many business owners), that isn't always the case.
Depending on the needs of your business and available existing inventory, building a new property can often make just as much (or more) financial sense than buying or leasing. Consider the pros and cons:
Pros of Building:
More control over the end product (design, features, finishes, etc.)
Warranties on some aspects of the construction and building systems
Build equity in the property over time
Ideal solution when existing inventory is low or non-existent
Ideal for specific building needs, such as industry-specific construction (such as a greenhouse or cold storage for temperature-controlled environments), or facilities for logistics like cross docks
Cons of Building:
Longer timeline
Lots of critical decisions to make throughout the building process
Potential for unexpected costs
Higher up-front cost than buying or leasing
Essentially, building makes sense if you have the capital, time, and patience needed for a building project, as well as if existing inventory is low or non-existent in the location of your choice.
If you decide to build, here are a few more things to keep in mind:
Building material costs fluctuate and it's important to make sure you have up-to-date pricing for your project.
Not ready for a ground-up build? Consider a remodel or addition to an existing building.
Location: Pay attention to zoning, utility access and costs, taxes, available incentives, workforce availability, and expansion opportunities.
Space use and applicable requirements, such as heavy equipment needs, HVAC considerations, number of drive-ins/dock doors, office vs. warehouse vs. manufacturing square footage, type of construction, floor thickness, storm water requirements, and more.
The Appro Development team regularly reviews lead times for each of our major suppliers and can be a resource to review both lead time and costs for the materials you need for your project. And having completed a wide variety of construction projects, we can help you navigate the building process from start to finish.
Whether you decide to lease, buy, or build, the pros at Appro Development and Cerron Properties are here to help. Download our helpful Lease, Buy, or Build guide using the form below, and contact us to discuss your needs and start the process of finding or building the next home for your business.

Get Your FREE Guide 👇
Related Articles
APPRO and CERRON: Favorite Road Trip Songs As the season of road trips is upon us, the team at...
To Buy Existing or to Build New...That is the Question: The decision whether to buy an existing...
APPRO Development has been active in land development, design, and construction services since...